I have uploaded all pictures from the previous version. I have tried to export and import all posts from my previous "blog". I have spend what it seems like forever to find a theme that I like (which is hard) and I hate it that when I finally find something: Laura hates it. And it really took a while. So now I have decided i'm done with the "initial install".
Design-wise, this is it.
No more tweaking, no more testing new themes, no more google and live search.
From tomorrow onwards, I will start to build content again. First I will have to go through the huge piles of pictures I took the last few months, and then I need to see which ones I feel fit for posting. For example, I need to go through the pics from our family-visit to Denmark: we spend a week in Denmark with my brother+family and our parents. Great week with absolutely beautiful weather. Kids loved it, parents loved it.
Anyway, back to the work to be done: pictures (DK vacation and others) and more content. Trying to write about what happened the last few months, and what we're planning the next few weeks. One of the things going to happen is Laura going on a mini-vacation with her friends. Hiking in the South-East of The Netherlands. For that I took some pictures of Maja.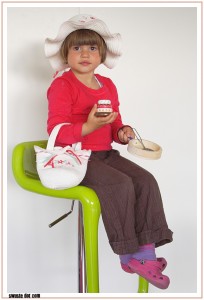 This is the one we decided was worthy of printing and giving to mommy to take with her. As you might notice, she's holding cook-wear and a pastry – for her and her mothers' love of good food. She's wearing her sun hat (with matching bag/purse) to show she hopes mommy doesn't have to walk in the rain and she's wearing her crocs (not hiking shoes) to show she hopes mommy doesnt have hurting feet.
Actually – i might have aided her a bit in choice of props 😉 But hey – it was really meant to be symbolic. At least some of it.
Due to Laura's upcoming vacation, I'll be alone with Maja for a few days. Wondering what to do. I think I want to drive down to Borås (finally) and check out the zoo. Maybe even Kollmarden – but that would be quite complicated since it means staying over somewhere. Thursday is Maja's Summer party at Kindergarten. Not much planned yet for Friday and Saturday. If you have any suggestions – leave a comment, or send me a mail!